Dan Lewis  (907)  980 - 6423


©  1998 Backcountry Taxidermy - All Rights Reserved

Good Hunting ........ Dan Lewis, Taxidermist

Backcountry Taxidermy has always had competitive prices :  We also give a 10% discount on work received from licensed guides and outfitters.

We use Precision Forms

For Tanning, we use Wildlife Gallery & New Method Tanning

All top of the line materials on all taxidermy

Dan has won numerous awards in State & National  shows

Backcountry is a proud member of the National Taxidermy Association

We have been a long time member of the Arizona State Association

African / Exotic  Price  List  for  2018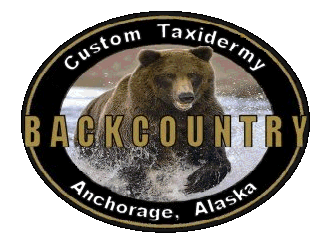 Prices do not include import or export services or any other special services.

All incoming shipments must be prepaid, No C.O.D shipments will be accepted.

Any advance charges paid by Backcountry Taxidermy such as customs clearance, brokerage fees, inspections, permits, etc. will be due on receipt of bill.

50% Deposit required on all work.   Balance due upon completion.  Payments can be arranged.  Sorry, but at this time we don't except credit cards.  Storage fees will be charged on all items not  picked up within 30 days of completion.   All unclaimed goods are subject to sale 12 months after completion. Prices reflect commercial taxidermy, and are subject to change.   Contact for actual quote.

               _____________________________________________________

ALL RUGS INCLUDE TANNING, MOUNTED HEAD WITH OPEN / CLOSED MOUTH, AND TWO FELT BORDERS.   (FLESHING NOT INCLUDED)

*Any African or Exotic species or type of mount not listed ---- Contact us for QUOTE

Lifesize prices includes freeform base.  Additional fee for deluxe base with hardwood trim

TANNING: In view of the many factors which have a very definite effect on the final results of tanning, such as primeness, general condition of the specimen, climatic conditions and lack of knowledge and facilities in the field by the sportsman. We assume no responsibility or guarantee to the results of any specimen.

Import & Clearing Fee **

USFW  Fee

US Customs

Dipping & Disinfecting fee for US entry

$325

Per Quote

Per Quote

$105 per animal

PEDESTAL  PRICE

Does NOT included base

1/2  LIFESIZE MOUNTS 

ARE  60%  OF  LIFESIZE  PRICE

Additional fee -  for open mouth on any shoulder mount - Contact us for Quote

Giraffe - Elephant - Crocodile - Hippo ------Contact us for QUOTE

SPECIAL PERMITS – For International hunters wanting to ship their trophies overseas you will need export permits and an inspection to leave Alaska. We can arrange this for you.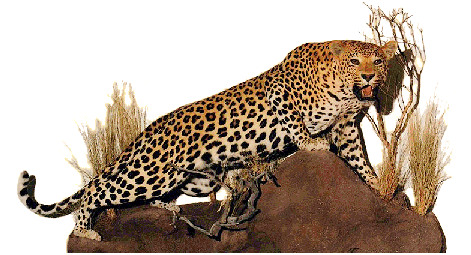 Backcountry Taxidermy

African Leopard

Crating, Shipping and Fleshing are additonal expediting costs:

PRICES SUBJECT TO CHANGE - Contact for actual Quote

Backcountry Taxidermy

African Kudu