Everybody knows construction season comes before duck season and there is much to do to get ready.     

The Floating Blind
- This one has seating and shooting positions for four hunters. There's even a built-in dog door with a flap covering the entrance.  The boat slip is attached. "This will be the boat hide, and it is usually 18 feet long by eight feet wide. That way, the boat can be parked in seclusion behind the portion the hunters will use. 
Click here
  for tips on how to build your own floating blind.
The layout blind
-
a cornstalk-colored blind that operates like an old storm cellar door. The hunter can peer through a mesh opening and, when the time is right, flip open the door, sit up and surprise landing geese. Thoroughly mud up layout blinds. An out-of-the-box layout blind will stand out in many cases. Smear dirt and mud all over the top and sides to give it an earthy look. 
Click here
  for tips to make your own Layout duck blind or to buy afforadable
Portable Duck Layout Blinds
Duck Boat Blind - Others turn their boats into portable blinds that can go wherever things look most promising.

Every duck hunter that hunts out of a boat knows that finding a quality duck boat blind can be a chore.  Either they are too big and cumbersome, or cheap and flimsy.  Paramount to it all, of course, is that it does a great job of hiding you from the ducks. 
Click here
  for ideas to make your own inexpensive boat blind or to buy portable boat blinds 
10 to 12 ft boat
  or 
12 to 16 ft boat
Blinds should be placed with prevailing winds at its back. That way, ducks landing into the wind will have to fly toward the blind to land among the decoys instead of surprising hunters by arriving via the back door.

The challenge for hunters is not only to create a blind that will conceal them, but one that will survive the 60-day season that likely will contain plenty of cold, wind and rain. 
Tips for building better blinds.
Not all blinds are big construction projects. Sometimes less is more.

At some public sites, hunters can walk in and take up a position along the bank, obscuring themselves in the vegetation already present.

Published  October 29, 2010 - Updated November 12, 2010

Types of Duck Blinds

Hunting & Fishing NEWS - 66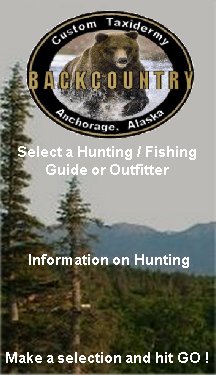 More Headline News

* Guides, Outfitters & Lodges *

Disclaimer: The views expressed on this site are that of the authors and not necessarily that of Backcountry Taxidermy or The Backcountry Press.