Backcountry  Custom  Taxidermy

Blue Grouse

(Dendragapus obscurus)

The male blue grouse, tipping the scales at 3 pounds, is a handsome bird, with its yellow comb standing out against the slaty blue of the head, and with its long black tail tipped with pale gray. The females are browner than the males, and are slightly more that two-thirds their size.

Habitat

The wet, evergreen forests of Southeast Alaska from Haines to Ketchikan are the home of Alaska's biggest grouse, the blue grouse or "hooter." Practically every island and cape has a population of these fine birds, although, oddly enough, there are no authentic records from Prince of Wales Island. Big timber is important to blue grouse, as it provides food and shelter in the winter months. Muskegs and alpine meadows are equally essential for the superior summer and fall feeding areas they offer. Hens with their chicks seem particularly fond of sunlit forest edges.

Where to Find Them

Blue grouse can be found in spring within easy walking distance of Juneau, Petersburg, and Ketchikan or along the road systems near those towns. Many trails maintained by the U.S. Forest Service turn the formidable task of hiking into their habitat in Southeast Alaska into a real pleasure.

Range of the Blue Grouse in Alaska

Alaskans know blue grouse as birds of the dense coastal forests of the panhandle where, in the summer, they range into alpine meadows and lowland muskegs. Throughout its range, the blue grouse spends winters in habitat dominated by conifers.

Spruce Grouse

(Falcipennis canadensis)

The male spruce grouse has a black throat and red comb over the eye and a rusty-orange band at the tip of the tail. The female lacks the red comb and the black throat. She is generally a mottled rusty brown to gray color with dark heavy barring on her whitish-colored belly.

The spruce grouse of Southeast Alaska lacks the rusty band on the tail, which characterizes other Alaskan spruce grouse, but has white-tipped feathers overlying the tail.

Habitat

Spruce grouse, popularly known as "spruce hens or chickens" or "fool hens," inhabit white spruce and paper birch woodlands, black spruce bogs, and, in Southeast Alaska, Sitka spruce and hemlock forests.

Where to Find Them

In the fall, spruce grouse are often seen along roadsides throughout their Alaskan range. Favorite places for hunters and bird-watchers are on the Parks Highway from Trapper Creek through Denali State Park and from Nenana to Ester, on the Steese Highway between miles 120 and 148, along the Elliot Highway, along white spruce-dominated sections of the Alaska and Taylor Highways, near Glennallen on the Glenn Highway, on many secondary roads on the Kenai Peninsula, and in the Matanuska and Susitna valleys.

Range of the Spruce Grouse in Alaska

Nearly every good-sized patch of boreal forest in North America has its population of spruce grouse.

Ruffed Grouse

(Bonasa umbellus)

Ruffed grouse come in two color tones: red (actually rufous or reddish brown) and gray phases. Red-phase individuals in Alaska are not as richly colored as those from the eastern United States, but the back, and particularly the tail, are definitely reddish brown. Gray-phase birds have distinctly gray tail and rump feathers, paler bodies, and only a hint of light brown feathers along their sides. Both color types can occur in one family group. Scientists in Minnesota now believe that the gray birds have the advantage over the red ones whenever snow is on the ground for long periods every winter, since gray birds appear to be least susceptible to predation. This may explain why the gray-phase ruffed grouse dominate in Alaska.

Habitat

The throbbing drum of the ruffed grouse pulses in spring through the woodlands of Interior Alaska wherever stands of aspen and birch break the uniformity of the northern spruce forest. But ruffed grouse are most abundant where dense stands of young aspen or birch have become established after a fire or timber harvest. In such situations it finds the variety of plants it needs for food and shelter, and a host of small, flowering plants in sunlit glades for the chicks to eat and to hunt among for insects.

Where to Find Them

Ruffed grouse occur naturally throughout most of Interior Alaska in aspen forests in the Yukon, Tanana and Kuskokwim River valleys. Ruffed grouse also occur in Southeast Alaska, where they range out of British Columbia along the lower Stikine and Taku Rivers. The population transplanted by ADF&G to Matanuska-Susitna Valley has expanded down the Susitna River to Beluga Lake. The status of the transplanted population on the northern Kenai Peninsula is unknown at this time.

Birds are most readily found by focusing on forested areas where dense young stands of aspen predominate as a result of wildfire or forest management activities. In the fall, birds frequent the edges of forest and shrub where wild rose, highbush and lowbush cranberry, and blueberry are available. By late October these birds switch to their winter diet of aspen and willow buds.

Range of the Ruffed Grouse in Alaska

The ruffed grouse has been fairly successful at colonizing the northern forests, but unlike the spruce grouse, it has an affinity for hardwood stands that has allowed it to spread southward into the midsection of the United States. In the north, it occupies far fewer square miles than the spruce grouse, because its habitat is less widespread.

Sharp-Tailed Grouse

(Tympanuchus phasianellus)

Sharp-tailed grouse are distinguished from other grouse species by their silver-gray "frosty" appearance and white-spotted wings, but the most distinctive field mark is the short, pointed tail.

Male sharptails, which weigh about 2 pounds when mature, are slightly bigger than females. The two sexes look very much alike, except that the central pair of tail feathers of the male is usually striped longitudinally rather than crossbarred as in females, and the cock's crown feathers are dark without bars.

Habitat

Sharp-tailed grouse often perch high in an Alaska spruce tree, or emerge from dense brush along a back road. This grouse occupies a vast area of primarily forest habitat from Ontario to Alaska, far north of the prairie border with which people usually associate it. In these subarctic regions the sharptail prefers recent burn areas, open grass-shrub habitat, agricultural lands, sparse shrub-spruce at timberline, and wet, sedgy, almost treeless areas known as muskegs. Sunny, grassy knobs are important features of breeding grounds. Dwarf birch bushes on which they feed are an important component of their winter range. Sharptails will also feed in unharvested grain fields in central Alaska, as long as the grain shows above the snow.

Where to Find Them

Although the sharp-tailed grouse is not widespread in Alaska, some places are locally known for their consistent production of coveys of this bird. The area around Tanacross, Tok, and Northway and the agricultural area east of Delta Junction are two such hot spots. The brushlands from Shaw Creek to Delta Junction and from Delta Junction to Donnelly Dome support smaller populations. The open marshy ground near Fort Wainwright and North Pole is an area where these birds are often seen. Sharptails are also scattered along high, fairly open ridges west of Livengood, the road to Manley Hot Springs, on the Johnson Road south of Eielson Air Force Base, on other summits or "domes" in the vicinity of Fairbanks, and along the Lake Louise Road west of Glennallen.

Range of the Sharp-Tailed Grouse in Alaska

The Interior valleys and their foothills harbor practically all of Alaska's sharp-tailed grouse, although small populations occur in the western Copper River Basin. The subspecies found in Alaska also lives in the Canadian provinces of Yukon and extreme northern Alberta. Six other subspecies occupy lands extending east across central Canada to the Great Lakes region, and south to Nebraska, New Mexico, Nevada, and Oregon. The sharptail is very much like the more southerly prairie chicken; in fact, the two birds occasionally hybridize.

  If you want more information on Alaska Grouse  
CLICK HERE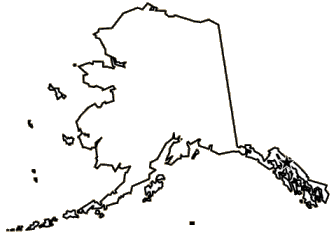 Backcountry Taxidermy

Hunter's Guide